Protect Your Marine Cargo
Insurance is an important protection for any business activities, especially the marine sector which is growing with globalization and increase in trade.
Marine Cargo Insurance protects your cargo during transportation from one place to another. It provides protection against damage to goods caused by fire, natural disasters, sinking and capsizing of the ship.
Our Marine Cargo Insurance helps to insure your goods against loss or damage during the voyage.
Key Benefits

Insurance Coverage
. Insured goods are only covered for total loss.
. It covers loss of insured goods carried by a vessel which may be damaged by natural disasters, fire explosion, overturning and derailment, stranded, sunk, grounded, capsizing, collision between vessels and collision with external objects.
. The company is the liability for compensating for costs and labor costs due to safety measures in the event of a loss.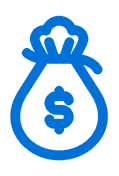 Additional Coverage
. Port overdue fee 10% can be purchased on premium



Policy Term
. For Single Trip Only


Stamp Value
. Stamp value of 0.01% is applicable on the total sum assured