Food For Thought
Mr.Aung is the sole breadwinner of the family and wants to accumulate his wealth while protecting the future of his loved ones should the unfortunate happen to him. He has choices of different policy terms that can cater to his unique needs.
Grow your money while receiving protection
If you are looking to grow your money, then this is the perfect insurance for you. Through the Short Term Endowment policy, we will enhance your investment returns while protecting you in event of death and total permanent disability. Invest in your financial future now and give your financial well-being a great boost!

Enjoy Additional Benefits

Protection of peace of mind – with EFI Life
Good savings habit – Practice good savings habits that will help you to build wealth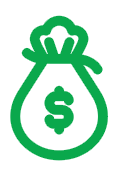 Financial security – With good protection and guaranteed maturity benefit.

Death Benefit – Receive 100% of the sum insured in one lump sum.

Maturity Benefit Pay out – Receive the full value of the sum insured in one lump sum upon policy maturity.


Flexible Options – Enjoy additional options on the policy.